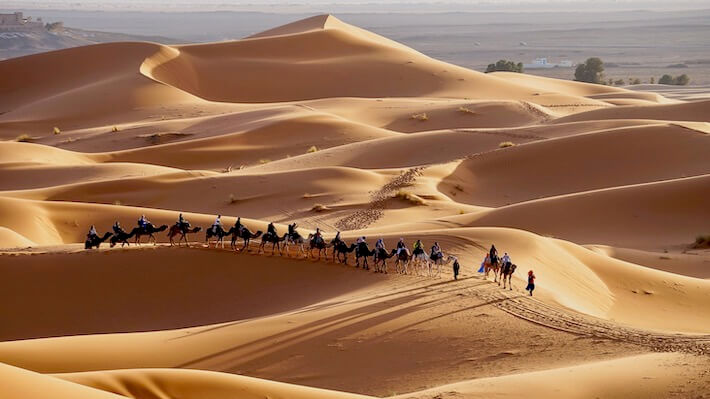 This journey is private and designed to give the traveler the broadest sense of Morocco, its culture, people, geography, imperial cities, Sahara, Dades Gorges, Kasbahs, High Atlas Mountains, Berber Villages, and the charming city of Essaouira. Craft Tours, Cultural Tours, Historical Tours, photography, and Culinary tours on a private Sahara desert Morocco tour.
ITINERARY
Day 1 – Casablanca (or Tangier) – Volubilis / Meknes – Fez
After your arrival at Casablanca airport (or Tangier port or airport), you will be escorted by your tour leader to start your Moroccan journey.

(Based on arriving in the morning, otherwise, we will skip the stop to Meknes and Volubilis and go straight to Fez.)

A journey back thousands of years and explore the ancient Roman ruins of Volubilis sprawled over a wildflower-dotted hillside, where a magnificent triumphal arch presides over the awesome remains of palaces and mansions, Roman baths and basilicas, and stunning mosaics.

After, You travel past centuries-old olive groves and vineyards we near Meknes to enjoy for the afternoon, the Ismalian capital, famous for its 25-mile-long walls – and, not to mention excellent wine. Heading to port Bab El Mansour and Bab El Khamis,
Your tour leader can assist you and take you to any place you wish to visit in Menes.

Dinner and overnight at your Charming Riad Yacout in the ancient city of Meknes.
Meals Included: Breakfast & Dinner
Day 2 – Fez









A free day to do as you may wish with the assistance of your tour leader.
Fez is the holiest city in the Islamic world after Mecca and Medina. This enchanting city has been a seat of government, philosophy, medicine, culture, and religion. Fez, the best surviving example of an ancient Arab city, is comprised of the "new" city, established in the 12th century, and the 2,000-year-old medina. In the cobbled alleyways, donkeys and mules laden with goods still trawl alongside buyers through the ancient market, itself a fascinating maze of lanes, blind alleys, and bustling souks assaulting the senses with spices and exotic delicacies.

A best surviving example of an ancient city, the spiritual and intellectual capital of Islam resting alongside ancient Jewish quarters. The Vibrant Jewish heritage in the Mellah, where artisan craft, antique Jewish goods, and handcrafted jewelry is sold. Visit the recently restored Ibn Danan synagogue ñ the oldest extant synagogue in Fez. Until very recently abandoned and decaying, its restoration was part of a comprehensive UNESCO project to preserve the monuments and fabric of medieval Fez.

Fez is the perfect place to practice your bargaining skills in buying souvenirs, brightly colored hand-loomed carpets, or fine-crafted artisan goods. Visit the famous leather tanneries, a honeycomb of vats exploding in an array of brilliant colors. Then, climb to the venerated Merenid Tombs for a spectacular panoramic view of Fez.

Sites to Visit:
Jewish quarter * Synagogue * The ramparts of Fes * The gates of the Palace * The panoramic view of Fes * The pottery cooperative * Tanneries * Berber Carpet Demonstration * Dyers Market * Wood Museum / Najjarine * Museum Batha * Al-Qayrawan mosque * Medersa Bou Inania * Weavers Cooperative * Mausoleum of Moulay Idriss II * Antiquities' gallery * Medersa Cherratine

Lunch with the locals in the market on your own

Dinner at one of the restaurants with the locals in the ancient city on your own.

B&B at your luxury Riad at the ancient city of Fez
Meals Included: Breakfast
Day 3: (Monkey Watch) – Ifrane – Azrou – Midelt – Erfoud –Merzouga
The Middle Atlas region offers many hidden delights. You'll drive through Ifrane, Sefrou, and Azrou. You will have a chance to experience a fragrant cedar forest filled with chatty Barbary apes, enjoy the crystal air of the mountains while you discover rustic Berber villages, and admire the architecture of an Alpine-style village. (we will make a stop to say hello and feed the monkeys on the way)

This would be a day trip to Erfoud where civilization ends in that part of Morocco. After your arrival to Erfoud, you will switch off for a short 4×4 to the edge of the Sahara dunes.

Late afternoon, You will explore the mystical Saharan landscape as you ride by camel over the stunning sugar-fine sands of Merzouga as the red sun sinks. As night falls, You will listen to the heady intoxicating beat of Berber drum music and song during the traditional pouring of mint tea

Dinner and overnight at your luxury Saharaoui Camp near the famous Erg Chebbi dune. (Luxury tent with private bathroom)
Meals Included: Breakfast & Dinner
Day 4: Desert – Erfoud – Todra Gorges –Boulmane du Dades – Rose Valley
After breakfast, you will take a 4×4 ride to visit some of the nomad villages and the fossil area within the desert including a special stop at the fossils Museum/factory of Erfoud where they turn fossils into home decorative items.

Explore the area before you continue your adventure through the road of thousands of Kasbahs, including a special stop to visit the famous Todra gorges.

After we will make a visit to the Jewish quarter and the local bakery in Tinghir Then traveling the rugged Road of a Thousand Kasbahs that rise up like turreted sand castles along this ancient caravan trading route. This area has long been a popular location for Hollywood films such as The Last Temptation of Christ, Jewel of the Nile, Hideous Kinky, Gladiator and
Alexander. The central region is one of the most exciting destinations of Morocco, nestled along rich river valleys, palmeries, and burnished mud-brick homes ablaze in the desert sun.

Dinner and overnight at your charming Kasbah in Skoura near Ourzazate.
Meals Included: Breakfast & Dinner
Day 5: Kasbah Ait Ben Haddou – High Atlas Mountains – Marrakech
After breakfast, You will start your journey by a special visit to the famous world heritage site of Kasbah Ait Ben Haddou. Then we continue our adventure along with the majestic beauty of the High Atlas Mountains, through the scenic route of Tizi n'Tess's lush oasis valleys and mountainous areas highly popular with trekkers. We'll stop for a tea break at one of the Berber villages on the way to the exotic city of Marrakech.

Thrill in the bewitchery of the night that beats in the heart of the famed square, Djemaa el-Fna, where delectable fare is grilled over coals in bustling torch-lit open-air markets. Mystical snake charmers, hustlers, and mischievous monkeys are part of the nightly drama that unfolds, as Berber acrobats, fortune tellers, musicians, and engaging storytellers seduce rapt crowds. Then wind your way through the serpentine labyrinth of the spice-filled air of the bustling souk, unchanged for over 1000 years, where you'll discover the best of traditional Moroccan craftsmanship.

Enjoy dinner at one of the many area cafes or restaurants at Jamaa Elfna square.

B&B at your luxury charming riad in the ancient city of Marrakech.
Meals Included: Breakfast
Day 6: Marrakech
Explore the exotic city of Marrakech including the ancient Bahia Palace from the days of the harem, now populated by a sentry of nesting storks. Enter the ancient royal Saadian Tombs, explore the vibrant and historic Jewish mellah where some of the best jewelry of Morocco is sold, and see the majestic 12
th Century Koutoubia Mosque before entry into the 9
th Century walled medina to visit Medrassat Ben Youssef and the ancient market including shopping etc….

Dinner at the traditional Moroccan Stylia Palace from the 15th century or wherever you may wish on your own

B&B at your luxury charming riad in the ancient city of Marrakech.
Meals Included: Breakfast
Day 7 – Essaouira – Marrakech
Optional day trip to Essaouira or spend the day to enjoy more of Marrakech!
(2h drive each way, including a special stop to visit one of the Argan Oil cooperatives)

Essaouira drew music legends Jimmy Hendrix and the Rolling Stones to its idyllic charm, and artists and musicians alike today come to enjoy the sparkling whitewashed village trimmed with brilliant blue skies. A former Portuguese settlement in the 18th century, and a current fishing village, its stone ramparts abut a deep green sea fringed with miles of silvery beach where horses and camels ferry passengers across sugar-spun sand. Stroll through serene squares, browse artisan shops and peruse art galleries before indulging in a sensational seaside lunch, where freshly caught fish of the day is grilled to a succulent finish before your eyes. Top it off with famous Moroccan mint tea and sinfully good French pastries at one of Essaouira's many cafes with the locals.

In the late afternoon, you will travel past fragrant pine and cedar forests, terraced farms until you reach the exotic city of Marrakech.

you may want to cap off your journey at the Fantasia dinner show in the desert of Marrakech. (Optional)

Overnight and breakfast at your charming riad in Marrakech.
Meals Included: Breakfast







Day 8 – Marrakech or Casablanca
Transfer to either Marrakech or Casablanca airport for your return home with plenty of tails of Arabian nights and days.

Meals Included: Breakfast

Note:

– If you wish to add a day or 2 in Chefchaouen (the blue city, please let us know!
Or
– If you wish to add a day or 2 to explore the Berber villages and the High Atlas Mountains, please let us know!
Cost:
USD 1890 per person based on double or twin occupancy
USD 3780 for 2 Travelers


What's Included:
*4* Charming Riad, Kasbah & hotel lodging
* Breakfast daily
* 3 dinners
* 4×4 in & out of Merzouga
* Camel Ride / Luxury Tent in Desert
* Nomad guide in Desert
* Private Luxury Large car, Gas, Tolls & English speaking driver for the entire trip
* Transfers to and from the airport
* Knowledgeable certified guides at the Imperial cities
* Museum fees
* All taxes


Not included in package price:
* Airfare
* Lunches
* 2 Meals not included in Program
* Drinks
* Travel Insurance
* Tips


4* Accommodation (Or similar):
Fez: www.Riad-Laaroussa.com
Overnight / Desert: https://www.aubergedusud.com/merzouga-luxury-desert-camp/
Boulmae Du Dades: https://hotelsultanaroyalgolf.com/
Marrakech: https://riadkasbahmarrakech.com/