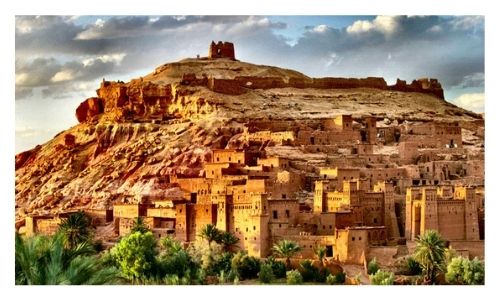 Experience culture through cuisine for your Honeymoon Packages to Morocco. On this Private Tours to Morocco, You'll visit some of Morocco Jewish Heritage, wonder through the ancient Arab Imperial city of Rabat, Fez. Explore the dunes of the Sahara on camel-back within this Sahara Desert Morocco Tour, relax in a tiny Berber village in the High Atlas Mountains, and finally, discover the exotic Marrakech, the most African of Morocco's cities. Along the way, you'll experience first-hand by staying at some of Morocco authentic riads of different influences that have made Morocco what it is today by delving deep into the local culture and Morocco food. You will bargain at souks, visit Berber villages, learn to cook the local cuisine, tour the highlights of each area by joining our best guided tours Morocco.
ITINERARY
Day 1 – Casablanca – Rabat – Fez
Prepare yourself for one of the most fascinating, colorful, and culture-rich countries and exotic cities in the world. We will pick you up at Casablanca's Mohammed V International Airport to start your journey by a special visit to the famous Hassan II Mosque. To follow with a short drive to Rabat, the Kapital of Morocco.

You will visit the ancient ruins of Chellah, where Jews are believed to have lived during the time of the Phoenicians. Then we will visit the Kasbah des Oudaias, situated on a bluff overlooking the Atlantic Ocean you'll find magnificent views. Jewish presence is evidenced by Hebraic epitaphs dating from the Christian era as well as Greek inscriptions that still appear in local Synagogues and a place of pilgrimage where the tomb of Rabbi' David Benmidan is located.

Lunch at a French restaurant in the Marina

Afternoon a couple of hours drive to Fez.

Dinner and overnight at your charming riad in the ancient city of Rabat

Meals Included: Dinner

Accommodation: 5* Riad at the ancient city of Fez
Drive Time: Approximately 3h & 1/2, not including stops.
Day 2 – Fez
Fez is the holiest city in the Islamic world after Mecca and Medina. The best surviving example of an ancient Arab city is comprised of the "new" city, established in the 12th century, and the 2,000-year-old medina, where donkeys and mules laden with goods still trawl alongside buyers through the ancient market, itself a fascinating maze of lanes, blind alleys and bustling souks assaulting the senses with spices and exotic delicacies. Fez is the perfect place to hone your bargaining skills in buying souvenirs, brightly colored hand-loomed carpets, or fine-crafted artisan goods. Visit the famous leather tanneries, a honeycomb of vats erupting in an explosion of brilliant color. Then, climb to the venerated Merenid Tombs for a spectacular panoramic view of Fez.

Lunch at the restaurant in the ancient city of Fez

Sites to Visit:

* Royal Palace
* Mellah (Jewish Quarter)
* Jewish Synagogue (not always open to the public)
* Ramparts of Fes
* Potter's Cooperative
* Al-Qayrawan mosque
* Medersa Bou Inania
* Weavers Cooperative
* Berber Carpet Demonstration
* Tanneries
* Dyers Market
* Najjarine Wood Museum
* Museum Batha

Dinner wherever you may wish on your own.

Overnight and breakfast at your charming hotel in Fez

Meals Included: Breakfast
Day 3 – Volubilis – Moulay Idriss – Meknes – Fez
A short ride past centuries-old olive groves and vineyards for a journey back thousands of years to explore the ancient Roman ruins of Volubilis sprawled over a wildflower-dotted hillside, where a magnificent triumphal arch presides over the awesome remains of palaces and mansions, Roman baths and basilicas, and stunning mosaics. Follow by a 5 minutes drive for ½ hour walk to visit Moulay Idris Zarhoun.

Optional visit to one of Morocco Vineyards in the area.

To follow with another short ride to Meknes, the Ismalian capital, famous for its 25-mile-long walls. Heading to port Bab El Mansour and Bab El Khamis, After, you will take a short drive back to Fez.

Late afternoon leisure for some downtime at your Riad.

Dinner at Restaurant La Maison Blue or wherever you may wish on your own.

B&B at your charming riad Houyam in the ancient city of Fez.
Meals: Breakfast
Day 4: Drive Through Middle Atlas Cedar Forest to Edge of Sahara Desert
Today we leave the bustling city of Fez and travel through the Middle Atlas region until we reach the edge of the Sahara Dunes. We'll travel through the mountain villages of Ifrane and Azrou, and see architectural features unique to this area – beautiful green tile, slanted roofs to help offset the heavy winter snow. We will also pass through the fragrant Middle Atlas cedar forest, home to the Barbary Macaques, better known as Barbary Apes, where we can stop and observe this endangered species.

We'll stop for lunch and amazing views in Midelt, a town situated between the Middle and High Atlas mountains, before continuing on to Erfoud, the last city before civilization ends. Here we will jump into a 4WD vehicle for a short drive to our charming hotel, at the edge of the desert.

Meals: Breakfast, Dinner
Accommodation: Charming kasbah at the edge of the Sahara dunes
Drive Time: Approximately 6 hours, not including stops.
Day 5: 4WD Desert Village Tour & Sunset Camel Ride to Desert Nomad Tent
After a leisurely breakfast, we will hop into our 4WD vehicle and explore the vast desert, including a visit to the village of Hassi Labiad, well-known for its fossils. We will enjoy lunch with the locals in the Sahraoui village of Rissani, situated on the edge of the vast Erg Chebbi sand dunes. Perhaps we'll even meet the Tuareg people, an ancient Berber tribe, now better known as the Blue Men of the Sahara due to the stunning indigo cloth they wear.

We will be back in the early afternoon and will spend the next few hours relaxing at the hotel before heading off for a sunset camel ride to our next destination, a nomad camp in the desert.

The evening will be spent far from civilization on the Sahara dunes of Merzouga. Stretch out on a beautiful Moroccan carpet and gaze upward at the bright expanse of stars that blanket the desert sky. Then, together with the nomads, we will enjoy hypnotizing Berber drum music, tea, and a traditional Moroccan dinner. Afterward, you will retreat to your private tent and experience the peaceful serenity of desert silence

Meals: Breakfast, Dinner
Accommodation: A Deluxe Nomad Tent
Drive Time: 4-hour 4WD tour of desert and villages.
Day 6: Road of A Thousand Kasbahs to Saharaoui Town of Tinghir to Ouarzazate
After a delicious Berber breakfast, we will return by camel from our camp to the edge of the dunes and return to Erfoud via 4WD. Then we continue on our journey to Todra Gorge and Tinghir, traveling the rugged Road of A Thousand Kasbahs, which rise up like turreted sand castles along this ancient caravan trading route. The central region is one of the most beautiful areas of the country, nestled along rich river valleys with groves of palm trees and traditional mud-brick homes, striking in contrast to the blue desert sky.

We will take a break in the Sahraoui town of Tinghir, where we will stretch our legs on a short one-hour walk to explore the area.

We will then travel through the Dadès Valley, past dramatic escarpments, and plunging gorges to our next stop in Kalat Megouna. This area is known as 'The Rose Valley', and we will tour an aromatic rose cooperative. After this, it is just a short drive to Ouarzazate, where we will stay in a relaxing hotel with a pool.

Meals: Breakfast, Dinner
Accommodation: Charming kasbah in Ouarzazate area
Drive Time: Approximately 5h drive
Day 7: Kasbah Ait Ben haddou – Scenic Drive Through High Atlas Mountains to Berber Village
We will start today's adventure by taking in the majestic beauty of the High Atlas Mountains through the scenic route of Tizi n'Tichka's lush oasis valleys and visit the fortified city of Kasbah Ait Ben Haddou, a UNESCO World Heritage site. We continue our journey along with fragrant, dense pine and cedar forests, terraced farms, and sienna mud-brick Berber villages until we reach our next destination, the small Berber village of Anrar in the Ourika Valley. Here we will check into our rustic and charming kasbah and experience legendary Berber hospitality. Relax at the kasbah and enjoy the view from the snow-capped mountains to the twinkling lights of Marrakech from the rooftop patio.

In the late afternoon, we will be welcomed into a local Berber home for tea with the family.

A visit with one of the pottery local artisan in the village.

Dinner and overnight at your charming Kasbah in the middle of a Berber village.

Meals: Breakfast, Dinner
Accommodation: Charming Kasbah within a Berber Village
Drive Time: Approximately 4 hours.
Day 8: Explore Ourika Valley in the High Atlas Mountains & Cooking Class
After you enjoying breakfast, we will head to the souk, the traditional Monday market, where Berber villagers from throughout the valley come to trade. We will walk with our donkey on a trail for about 45 – 60 minutes through the olive and fruit groves, along the Ourika River, stopping for a quick visit to the local school to pass out school supplies. At the souk, we'll select organic vegetables, meat, and chicken – everything we need for our cooking class tonight at the Kasbah. We'll enjoy lunch at the souk or a local restaurant and then the rest of the afternoon is yours to relax and enjoy at the Kasbah.

A special visit to one of the aromatic garden and Argan Oil Cooperative of the valley.

In the late afternoon, we'll have our Culinary workshop, where we learn how to make Moroccan traditional Soup and the famous Moroccan Couscous with beef and 7 vegetables.

Dinner and overnight at your charming Kasbah in the middle of a Berber village.

Meals: Breakfast, Dinner
Accommodation: A charming Kasbah
Drive Time: N/A.
Day 9: Marrakech
Today we take a short drive to exotic and mystical Marrakech, an enchanting palm oasis set against the snow-capped peaks of the High Atlas Mountains.

With your certified guide, you will explore some of the best Marrakech highlights for the first half day including the Bahia Palace with its expansive harem quarters and then enter the ancient Ben Youssef University. We will also explore the vibrant and historic Jewish mellah (quarter), where we will visit a working synagogue. You will tour the majestic Koutoubia Mosque before entering the 9th-century walled medina. As we explore the medina, we'll stop at Ben Youssef Madrasa, a historic Koran school, and wind our way through the serpentine labyrinth of the ancient bustling souk, where we'll see Moroccan craftsmanship at its finest.

Second half day, optional to tour more of Marrakech or just enjoy the afternoon by the pool at your palace.

Dinner at Stylia Palace from the 15th century at the ancient city of Marrakech.

Overnight and breakfast your palace in Marrakech.

Meals: Breakfast, Dinner
Accommodation: 5* Palace
Drive Time: Approximately 45 minutes.
Day 10 – Marrakech
Morning, you 'll take a tour around the ancient city wall and palm grove, as well as visit the beautiful Yves St. Laurent famous Majorelle Garden with your tour leader.

Wonder around the Djemaa el-Fna square, perhaps enjoy a cup of tea at a roof-top cafe, or relax at the riad. In the evening and thrill in the magic that emerges from the heart of the famed Djemaa el-Fna square. Mystical snake charmers, hustlers, and mischievous monkeys are part of the nightly drama that unfolds, as Berber acrobats, fortune tellers, musicians, and engaging storytellers seduce rapt crowds. Afterward.

A cooking experience with our Moroccan family to learn how to make the chicken with preserved lemon & olives to have a taste of the Moroccan hospitality.

Overnight and breakfast your palace in Marrakech.

Meals: Breakfast, Dinner
Accommodation: 5* Palace
Day 11: Marrakech
Your Moroccan Honeymoon and cultural tour ends today as you transfer to the airport in Marrakech for your flight home with plenty of tales of Arabian nights and days.

Or, if you would like to extend your Morocco adventure tour and wish to add a couple of days at the charming city of Essaouira, please let us know, and we will be more than happy to add it to your program.

Meals: Breakfast
Accommodation: n/a
Drive Time: 20 minutes to the airport in Marrakech
Or
2h & 1/2 drive to Casablanca airport